Glamorous Skylight is located in the north side of Fifth Park, south to the great lawn as the square of the underground parking, leading to Green Light Café. Shi-Zong Ye, the architect, uses the concept of BIPV (Building Integrated Photovoltaic) with solar theme to design a PV roof cover and Sun Galaxy Education Square. Its south is to the sun all day long, and the inclined 23.5 degrees is suitable to set the photoelectrictemplate in Taiwan. With the north side entrance of the basement, the south-dipping top cover can get the best sun angle, and with east-west double miter plane the overall form can be displayed as art sculpture.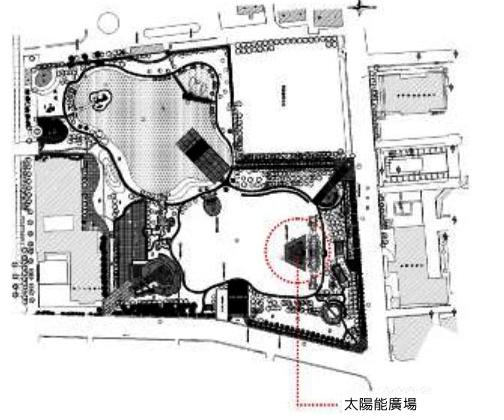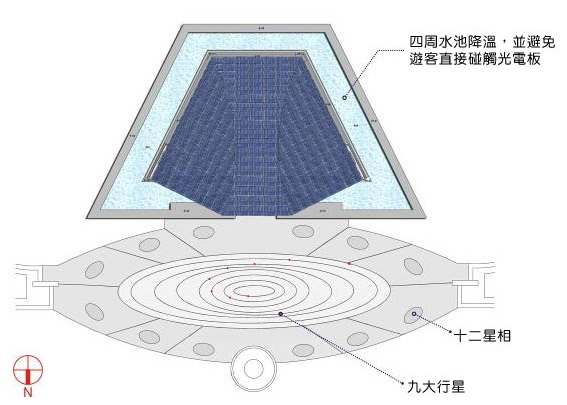 Solar Square Layout

The ventilation, lower temperature, and the lighting design of BIPV

The principle of PV system comes from "Photoelectric effect." In short, the electrons must be reflected by the radiation from the surface to generate electric current. It relies on the intensity of the sun rather than the heat that reflected on the surface.

The power efficiency of the solar cell is affected by the temperature, especially the single-crystal silicon and multicrystalline silicon module. (General standard lab testing temperature: 25℃, Sunlight intensity: 1000w/m2) In other words, as the PV panels need sunlight rather than heat, the design of ventilation, lower temperature are very important on BIPV.

This work is located in the park, with shallow pool and waterfall around to lower the temperature and stop the citizen from touching the PV panels directly. Also it becomes the location for the citizen to take the rest or the pictures. The upwards opening of the building creates the function to gather the wind. Besides, the bottom is away from the base 15cm, which increases the circulation of the airflow and decreases the lift of the wind and the heat retention.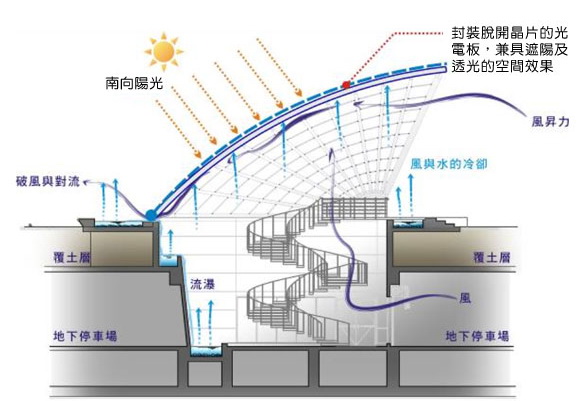 Schematic diagram of ventilation, lower temperature, sun-shading and the lighting design



Source:masonchang (Sky blog)Back