Description

1. BIPV application on the old building

Tainancounty government wants to renovate the 27-year-old government building indoors and outdoors in safe and secure circumstances. With the subsidy by the Bureau of Energy, Ministry of Economic Affairs, the 12kWp PV system can be set in front of the government building (face to the south). In the early period, there was no design for the sunshade in the south of the building. There were only curtains as heat insulations indoors. Basically, the curtains could only block the sunlight not the heat. Therefore, the government decided to improve the situation with BIPV sun visor. The old government building can not only be renovated but generate power. The building can reach to a meaningful and sustainable use.

2. The mold of government's enterprise image

The old appearance of government building was like government office, and the furnishing indoors had remained for 20 years. After Mr. Huan-Zhi Su, the head of the county, taking the office, he emphasized the importance of being friendly and building constructions. The county special area has already been planned as service center and leisure square. Its design conform the administrative concept of being concise, rational and technical to express the county government's public service, and emphasize the efficiency of modern entrepreneurship.

3. Combination of BIPV sun visor and Double skin

The three old office hat like rain shelters were designed as three glass boxes with Double Skin chimney effect to ventilate.It is designed for the cold air to be inhaled from the bottom, and the hot air to be exhaled on the top. Combined with BIPV PV sun visor and with every module chip disengaging from the package, it has penetrating vision. This design of ventilation, sun shading and lighting isolates the high temperature outside from the office, and widen the vision.

4. Photovoltaic grid-connected system

With 12kWp setting capacity and 345 pieces of 35W BIPV PV panels, and combining PV system with grid-connected system as complementarities, the government building can reach to maximum application effect.

5. Power efficiency and aesthetic consideration

As a center of a county, the facade of government building represents important implication surpassing general public buildings. Therefore, from the viewpoint of building facade design, from merely power efficiency consideration; the BIPV PV panels should be outwardly inclined from top to bottom. The height of facade is 16 meters. The facade needs to be inclined outwardly for 10 meters until there is no shading phenomenon. In the initial assessment, we rejected to sacrifice facade only for power generation. Although the power efficiency is not so good with higher incident angle of the sun in summer, from the perspective of BIPV, it is still a good project with power generation and aesthetic consideration.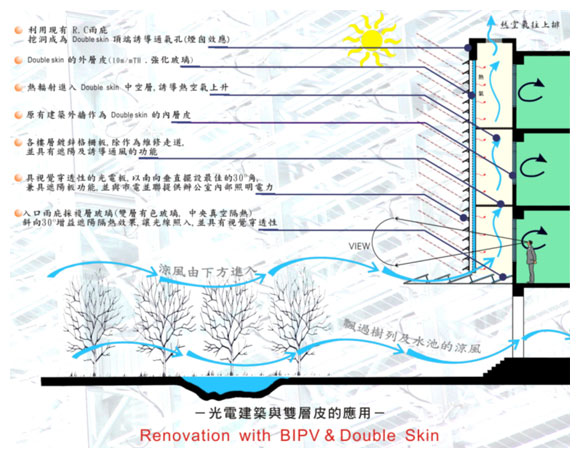 Back